Best Drum Throne for 2017
Drumming is an intense exercise in complete body control. Even after you get yourself one of the top electric drum kits, you're still going to need something to sit on – a drum throne.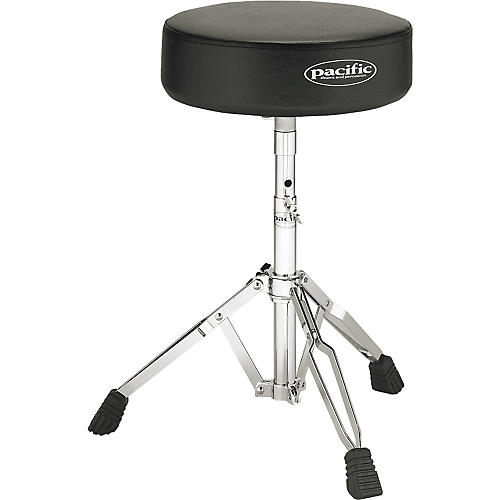 To the outsider, a drum throne might look like an ordinary stool, but really they're much more specialized to the needs of drummers. Great drum thrones have a few distinct characteristics that make them a must-have for any drummer –
Stability – drum thrones are made to be stable so they don't move or sway during intense music sessions. They also use non-slip, rubberized feet so the throne won't slide around on you.
Comfort – your drum throne has to be comfortable enough for you to sit on for your hours of rehearsals and gigs, so comfort is always a top priority. Thrones typically use thick, durable foam for a comfortable seat.
Height adjustment – drum thrones will let you adjust the height to match your specific needs.
Swivel – drum thrones have easy swivel action so the drummer can rotate their body as required to play the entire drum kit.
Round or Bicycle Seat?
Drum thrones come in two main varieties – round and bicycle (sometimes called motorcycle or tractor style as well).
A round seat is pretty self explanatory, and the most popular/basic choice you'll see. Drummers like round seats because there's no right or wrong orientation on it. You can shift around during your performance and always have the same feel from your seat.
Some people prefer a bicycle seat as a more ergonomic option. If you feel like a round seat cuts into your thighs too much, you might find that a bicycle seat is the cure.
There's no real clear-cut answer as to which is better than the other, it's simply a matter of preference. We'd suggest you start with a round top if you don't have a leaning one way or the other.
Now that we've covered the basics, let's jump into our list of the best drum thrones.
Best Round Drum Throne
Pork Pie Round Drum Throne
When it comes to the top of the line, drummers agree that Pork Pie makes the best round drum thrones around. These thrones are sturdy and extremely secure; you won't need to worry about the height adjustment failing.
What really sets them apart though is the cushioning on these seats. Drummers describe Pork Pie drum throne seats as being thicker and much more comfortable than the cheaper alternatives that pinch their legs and leave their butts sore.
Want to check the best price for the Pork Pie throne?
Best Bicycle Seat Drum Throne
Roc N Soc Nitro Drum Throne
Roc N Soc is a musician specialist company – that's all they do! Their Nitro Throne is their best value when it comes to an ergonomic bicycle drum throne.
This throne has the easiest height adjustment available by using a gas system to quickly raise or lower the seat, similar to office chairs.
One thing many drummers love about this throne is that the gas shock absorber in this seat gives it a tiny bit of "bounce" which makes things very comfortable on your back.
Want to check the best price for the Nitro Drum Throne?
Best Cheap Round Drum Throne
Mapex Drum Throne
If you're on a tight budget and can't spring for one of the best drum thrones above, we've got some suggestions for the best cheap drum thrones.
Our pick for the best cheap round drum throne is the Mapex Round Top Drum Throne. This throne has 5 height adjustment settings, so it's not as customizable as some others, but it is built well to withstand intense sessions.
Want to check the best price for the Mapex drum throne?
Best Cheap Bicycle Drum Throne
Gibraltar 6608
If you're looking for a cheap bicycle drum throne, then look no further than the Gibraltar 6608. This throne has over 200 reviews on Amazon with a 4.6 out of 5 average, so clearly it does a lot right.
Even heavy drummers report that this throne holds up for extended use and is quite comfortable for the price.
Want to check the best price for the Gibraltar 6608?